The Club has secured two Shirt Sponsors for the Whole Club on a two-year deal.
On the front of Shirt Sponsors will be MAG The Fitout Group owned by Colts parents Paul & Toni Hamilton. On the back of Shirt Sponsors will be Future First Financial Solutions Limited owned by Colts parents John & Lisa Agnew.
There is a PDF of the Kit HERE.
PLEASE NOTE: - WHEN PURCHASING A PLAYING SHIRT FROM THE ONLINE STORE DURING THE INITIAL WINDOW TO 9TH APRIL, PLEASE CLICK ON "COLLECT IN STORE" TO OBTAIN FREE DELIVERY. YOU ARE MORE THAN WELCOME TO HAVE IT SENT TO YOUR HOME BUT YOU WILL BE CHARGED DELIVERY.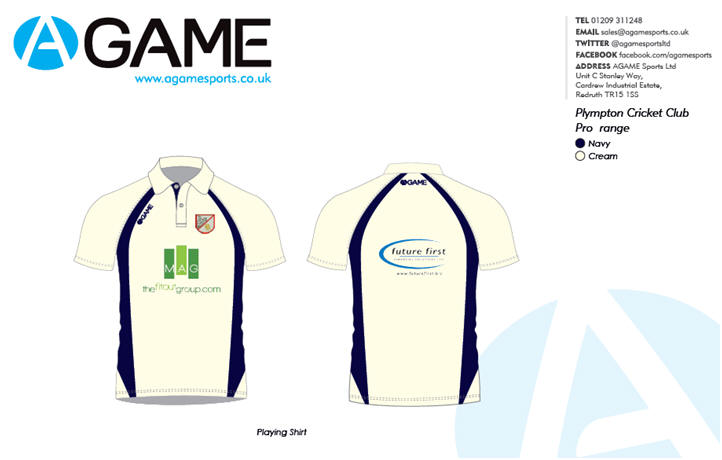 The Club Online Shop is now open!!! Thank to Colts parent, Adam Nicholas of Agame Sportswear.
The link to the Shop is :-
https://agamesports.co.uk/section/464/0/plympton-cricket-club
As a club, we would like to say the following: -
o Plympton Cricket Club would very much like to see all colts and adults wearing Club Kit to matches.
o Purchase of a Plympton Playing Shirt for all Colts is not compulsory BUT we do urge that you take up the following offer
o If a Colt buys a playing shirt at full price on the Club Online Shop, Plympton CC will refund £15 to anyone producing an order confirmation at the bar. Shirts in Junior sizes will therefore cost £7.50 and in adult sizes £12
o If a Senior Player buys a playing shirt at full price on the Club Online Shop, Plympton CC will reduce their annual subscription by £10 as long as the subs are paid by 31st may 2017
o This offer is restricted to one shirt per Colt and is open to the first 100 shirts purchases
o The window to purchase for free delivery is between now and 9th April 2017. After this time, you can buy shirts online but there may be a delivery charge
o If you order before 9th April, delivery is expected in 5 – 6 weeks. We realise this means that the shirts will not be available for the first couple of Colts weeks but unfortunately this is the best solution we can find to offer such a good deal
o The sponsorship is a minimum two-year deal so we will not be asking you to buy new shirts next year!
o Finally, initials can be added when you order online, free of charge! We encourage you do this so that shirts can be easily identified.
Although the club cannot make Colts buy these shirts, we would urge parents to consider doing so to ensure we look like smart professional teams – thank you.
Agame will be present at HELE DOME on Sunday 26th March from 13.45 until 14.45 with shirt samples to allow Colts to try on for size. They will also be present at our Full Club Social on Friday 7th April (see NEWSLETTER ON HOME PAGE). Both dates are before the free delivery window closes. The alternative is to use last year's shirt size as a guide – it is the same manufacturer. John Agnew will also post size guides on the email.